Engagement photos are meant to capture your essence as a couple. You can think of it as a sweet break in your wedding planning and as a way to get to know your wedding photographer better before the big day.
Not only will this post-proposal photo session allow you to test what your wedding photos might end up being like, but you can use these images to announce your engagement and even incorporate them on your save the dates, invitations, and wedding website, too.
So when choosing a location for this all-important session, it's best to look within for a locale that's meaningful to both of you. The site of your first date, the trails where you hike together, or landmarks of the city where you met and fell in love are all outstanding options for an engagement photoshoot.
One of the best things about a DC engagement, in particular, is the opportunity to capture some of the most iconic imagery in the United States. The US Capitol is home to a plethora of symbolic backdrops including the Library of Congress, the Washington Monument with its beautiful reflecting pool, as well as the Lincoln Memorial and Jefferson Memorial.
But there are also plenty of alternatives for couples seeking a more personal reflection of their love story in their DC engagement photos. Looking for a lush, natural backdrop for your engagement session? Or, maybe you're hoping for a hip, urban vibe?
We reached out to top DC wedding photographers Kanayo Adibe, Casey Crowe Taylor, Brittany Diliberto and Johnny Shryock of Bee Two Sweet, and Mantas Kubilinskas of Mantas Photo for their takes on the best locations for engagement photography — and their picks run the gamut from stately national monuments to charming parks.
Read on for these insiders' tips on the 17 best spots for an engagement photo session in and around the DC area.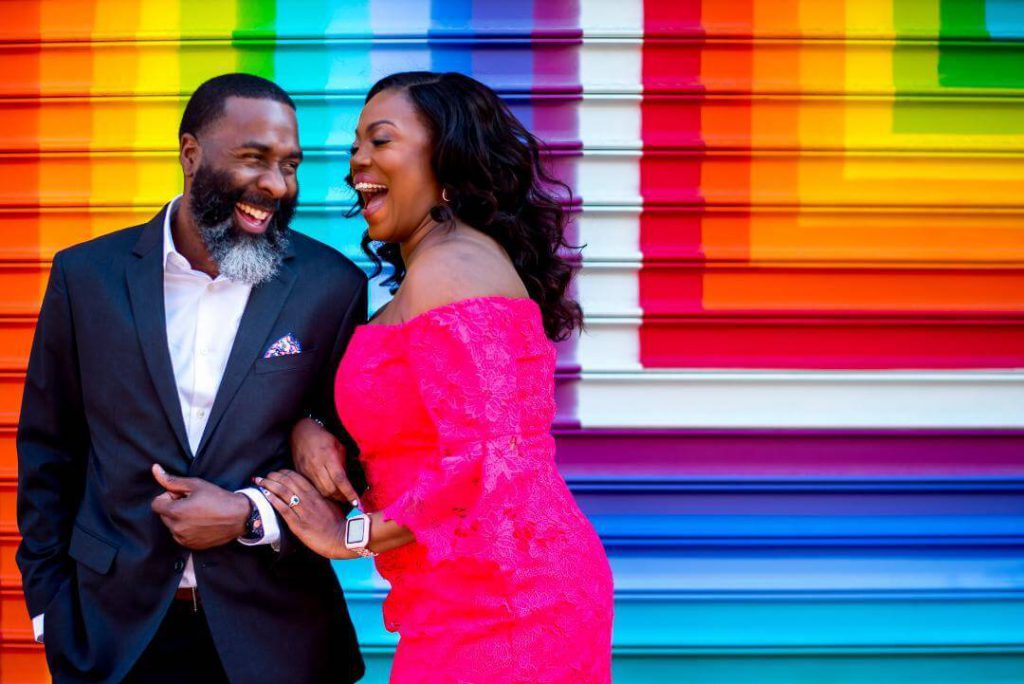 Adibe: "Blagden Alley introduces a splash of color to the rather historic feel of Washington DC. If you are looking for a vibrant scene for some creative photos, this is a great place to go."
Shryock and Diliberto: "Blagden Alley is found within DC's Shaw neighborhood and offers distinctive brick and stone features as well as interesting outdoor murals. The 'LOVE' mural by Lisa Marie Thalhammer is not to be missed!"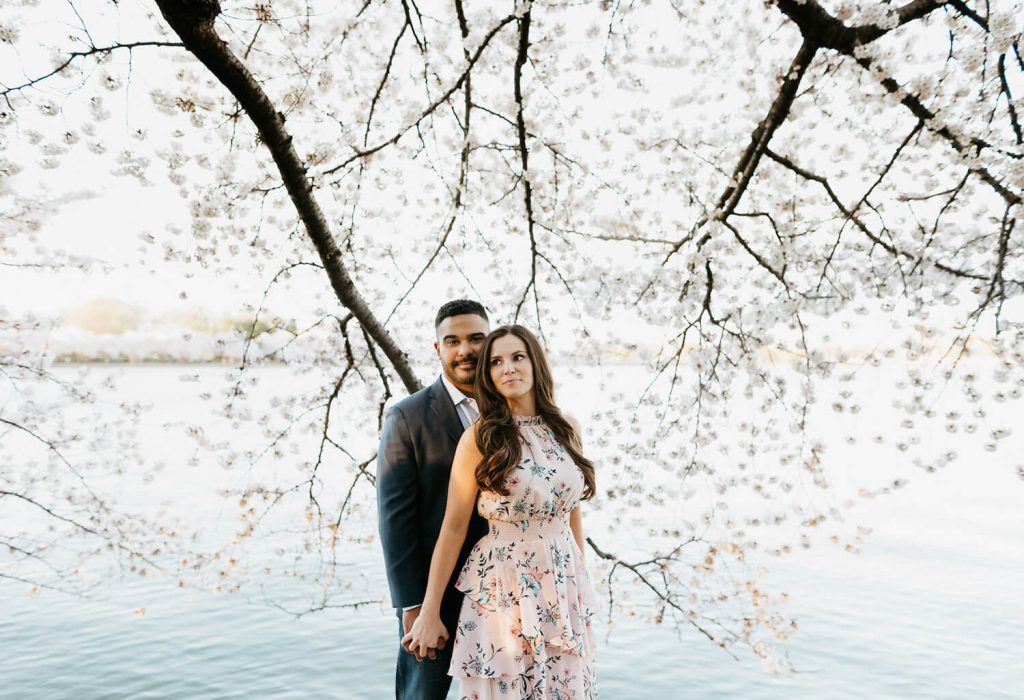 Shryock and Diliberto: "Every spring, the cherry blossoms alongside Washington, DC's Tidal Basin light up the city with their colorful display of delicate blooms. Day or night, the cherry blossoms offer the perfect amount of quintessential spring in DC."
Taylor: "The DC classic. If you can brave the crowds, it's so worth shooting during peak bloom. The color of the petals is incredible, and it's the most romantic. Photography permit applies."
3. County Fairs
Shryock and Diliberto: "Couples seeking innovative and quirky engagement photos will love shooting at one of the DC region's fairs. These summertime sessions are incredibly fun for everyone involved, and we enjoy strolling through the fairgrounds and creating pictures of the experience."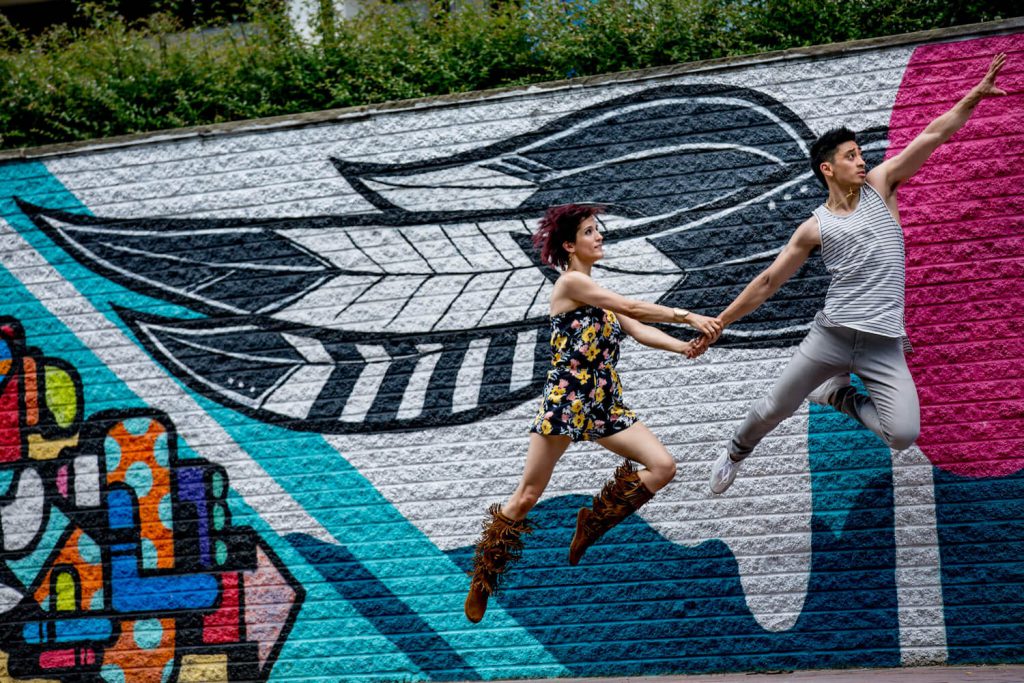 Shryock and Diliberto: "Located in Arlington, Virginia, Crystal City features a wide variety of backgrounds including outdoor murals, innovative architecture, cute shops, and stylish restaurants. While it might not be the most obvious location at first glance, we enjoy working with couples who want engagement photos where they live and work."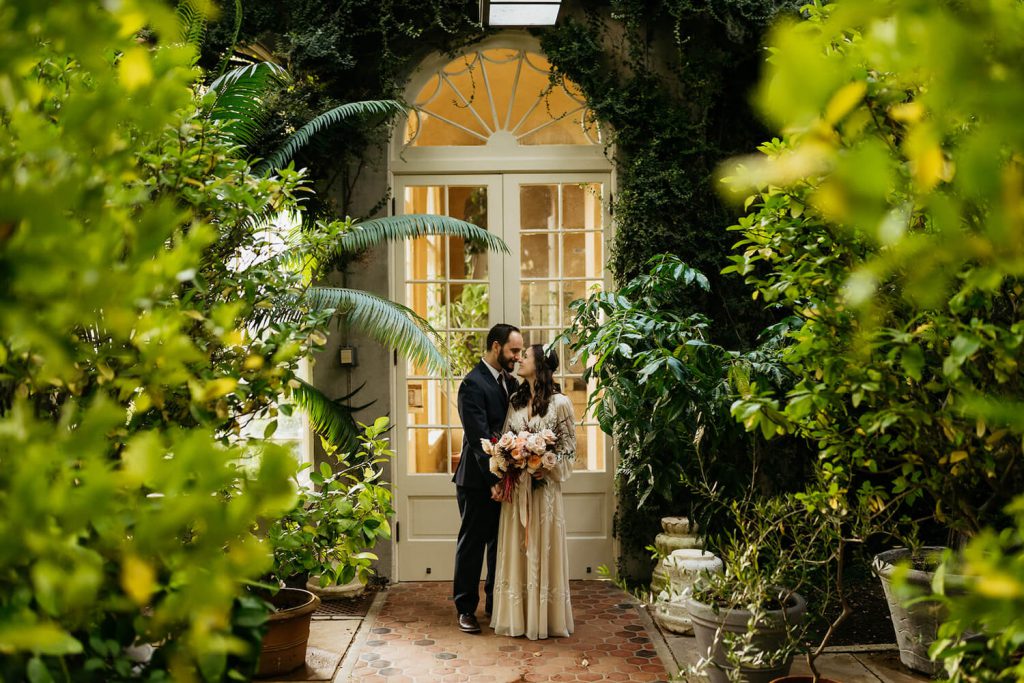 Adibe: "Dumbarton Oaks provides a great balance of architecture, greenery, textures, structures, and the occasional art exhibition to spice up your photos."
Taylor: "I just recently photographed a vow renewal here, and I love it because it's super different. It feels very old-world and is nestled right above Georgetown. It's got major Secret Garden vibes and so many hidden corners. Guaranteed for lots of variety in a session here."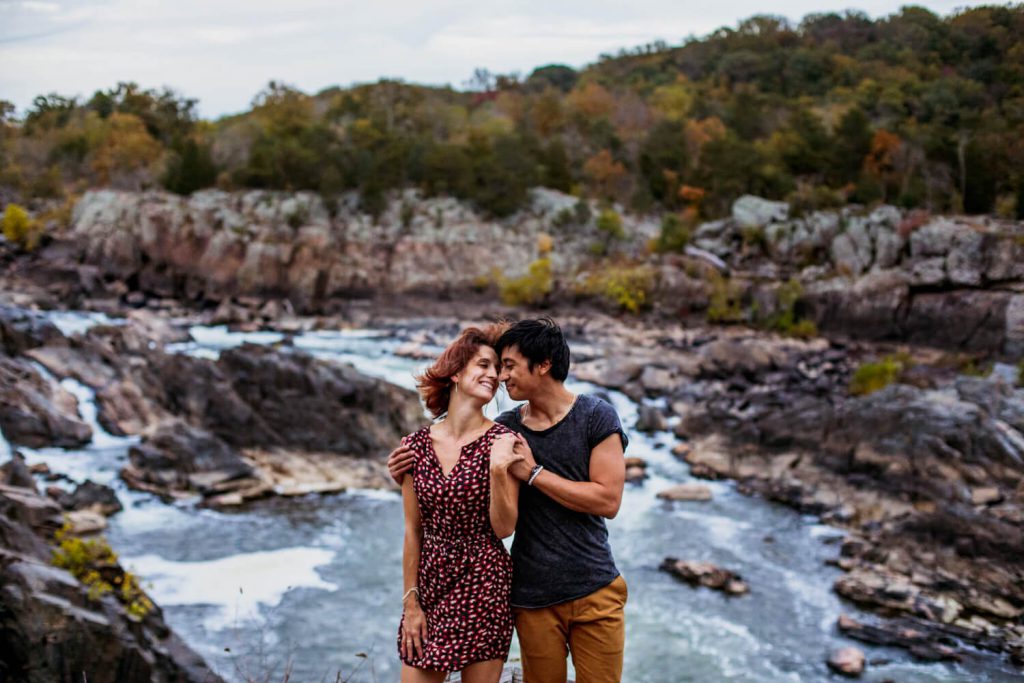 Shryock and Diliberto: "Just a short drive outside of DC, Great Falls National Park offers a taste of the great outdoors. With access from both Virginia and Maryland, Great Falls offers impressive waterfalls, a variety of boulder features, and a diverse array of foliage. [It's] perfect for couples who enjoy being immersed in nature."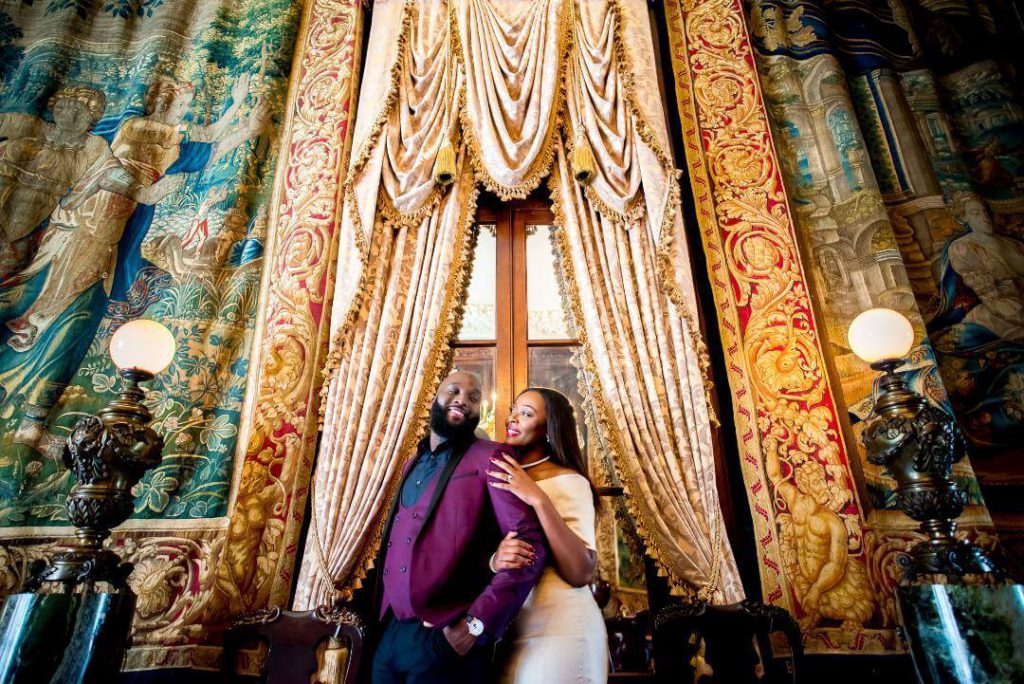 Adibe: "Anderson House gives off an extremely regal vibe. If you are looking for that gilded-age feeling in a location, this is one for you."
Taylor: "You definitely need to be a morning person for the Lincoln Memorial so you don't have tons of tourists in the background, but it's worth it even just for the calm and serene environment it provides that early. It's magical. Photography permit fees apply."
Shryock and Diliberto: "The monuments of DC inspire us with their rich history and impressive architectural features. For couples seeking the most iconic and quintessential DC photos, the monuments along the National Mall are a must."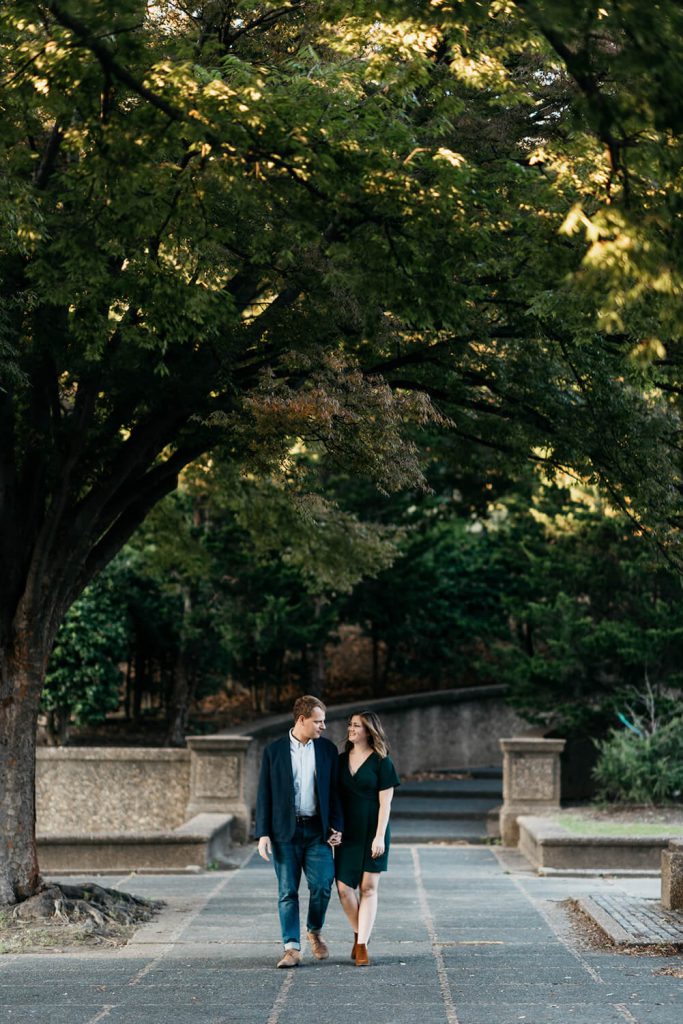 Taylor: "When couples tell me they want a mix of nature and city, I always recommend [Meridian Hill Park]. It's got DC architecture in the stairs and fountain but a ton of green space, as well. It's a win-win."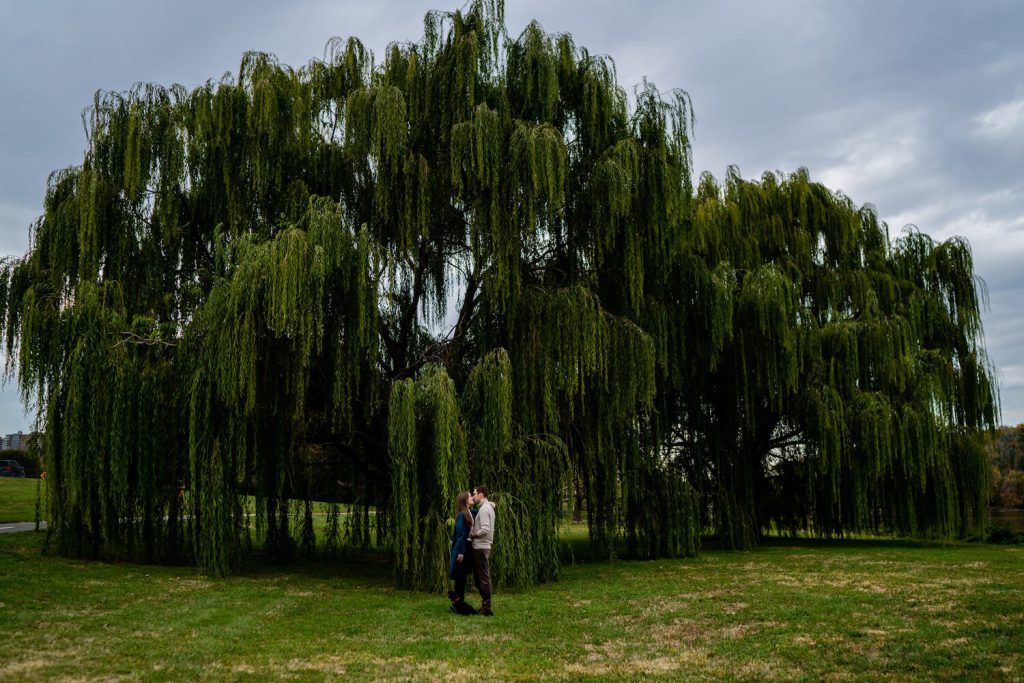 Shryock and Diliberto: "Mount Vernon Trail offers a blend of backgrounds, showcasing the Potomac River, impressive trees, and glimpses of DC architecture. The trail is a paved bicycle and pedestrian path along the George Washington Memorial Parkway in Northern Virginia."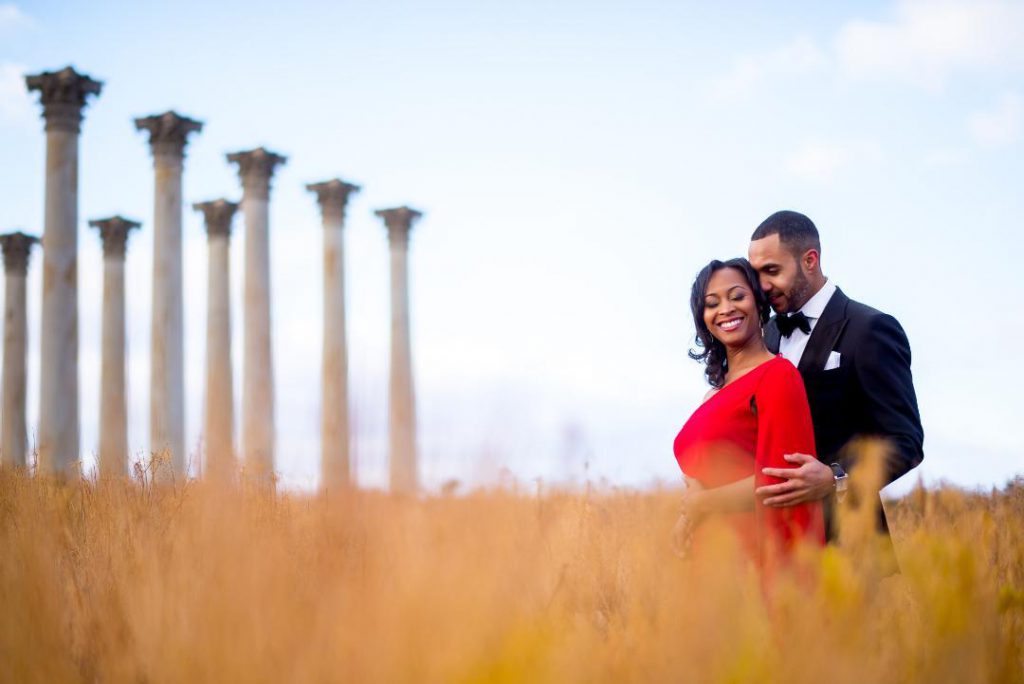 Adibe: "One of the greatest things about the Arboretum is its minimalist aesthetic. Lots of open space, greenery, and those amazing columns that support the sky. There is nothing else like it in the DC area."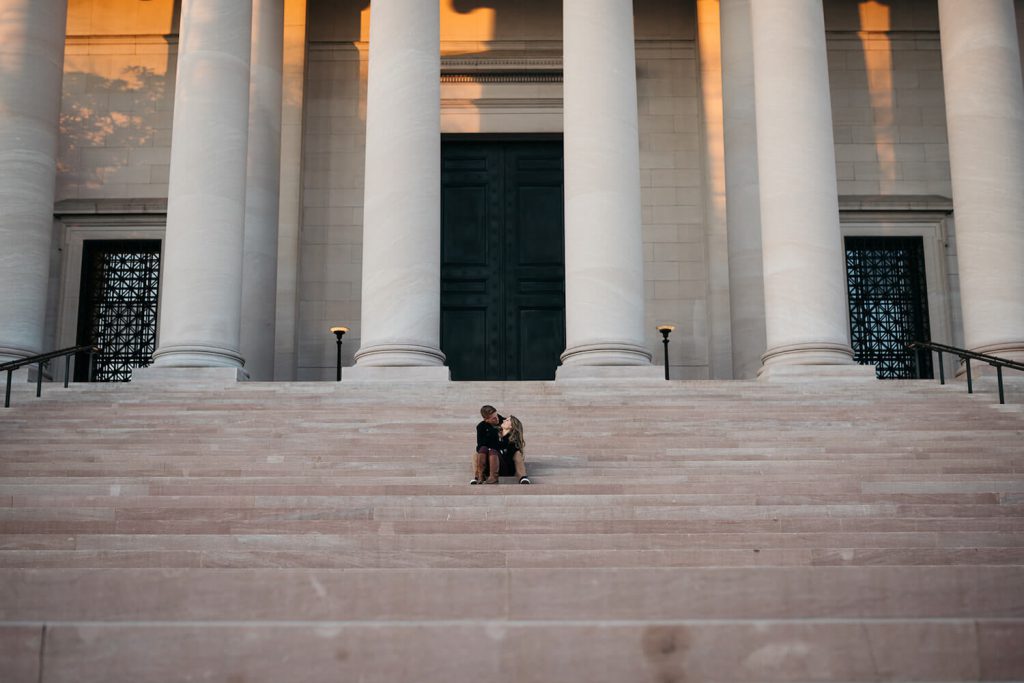 Taylor: "NGoA is a great spot for DC monuments and architecture without having to pay the hefty permit fees of the National Mall. You can also sneak inside for photos in the garden space."
Shryock and Diliberto: "The National Gallery of Art offers sophisticated backgrounds of beautiful pink marble with captivating artwork. Rain or shine, the light in this building is always perfect, and with the rotating collection we always find new inspiration in the gallery."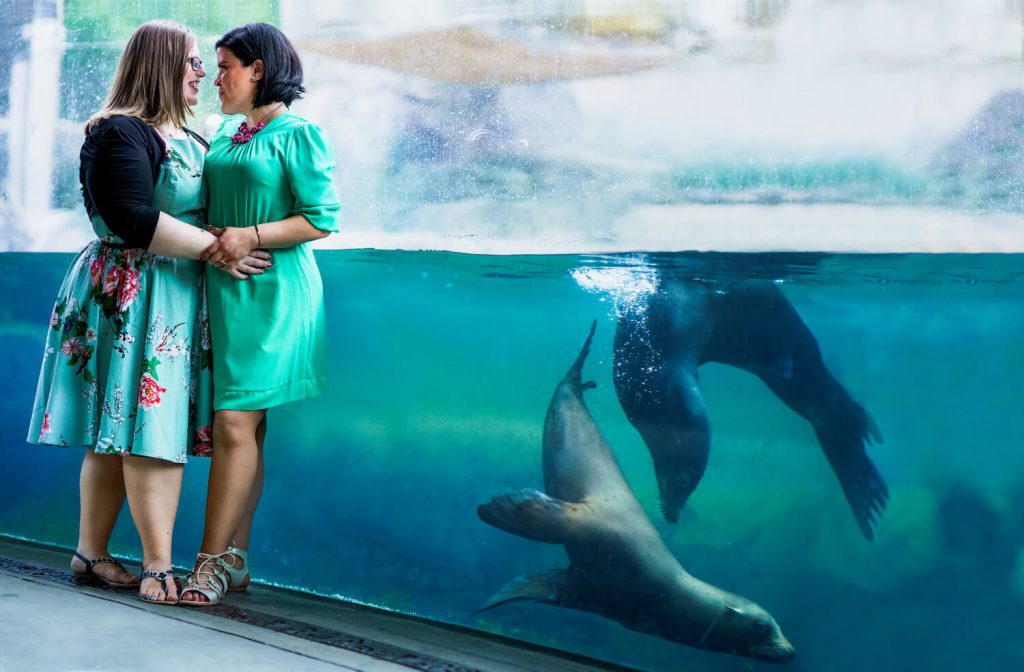 Shryock and Diliberto: "The National Zoo is part of the Smithsonian Institution and one of the oldest zoos in the United States — a classic date location for DC couples! We love exploring through the National Zoo, finding ways to incorporate what is special about the site for our couples."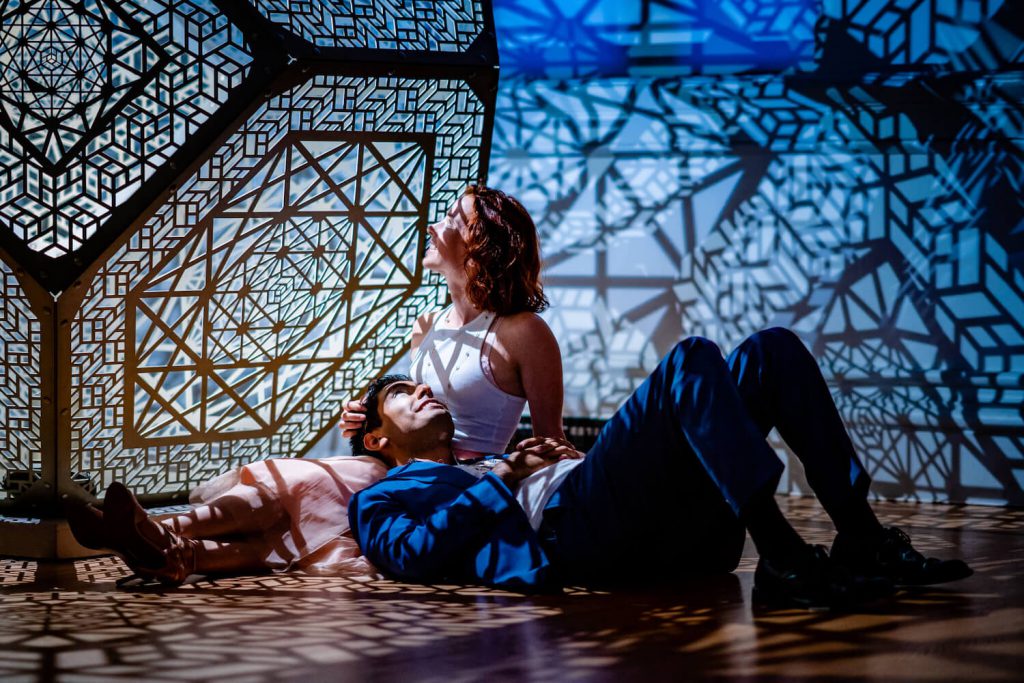 Shryock and Diliberto: "The Renwick Gallery is a branch of the Smithsonian American Art Museum located in Washington, DC. Exhibitions rotate throughout the year and offer couples the chance for a distinctive signature background that expresses their style."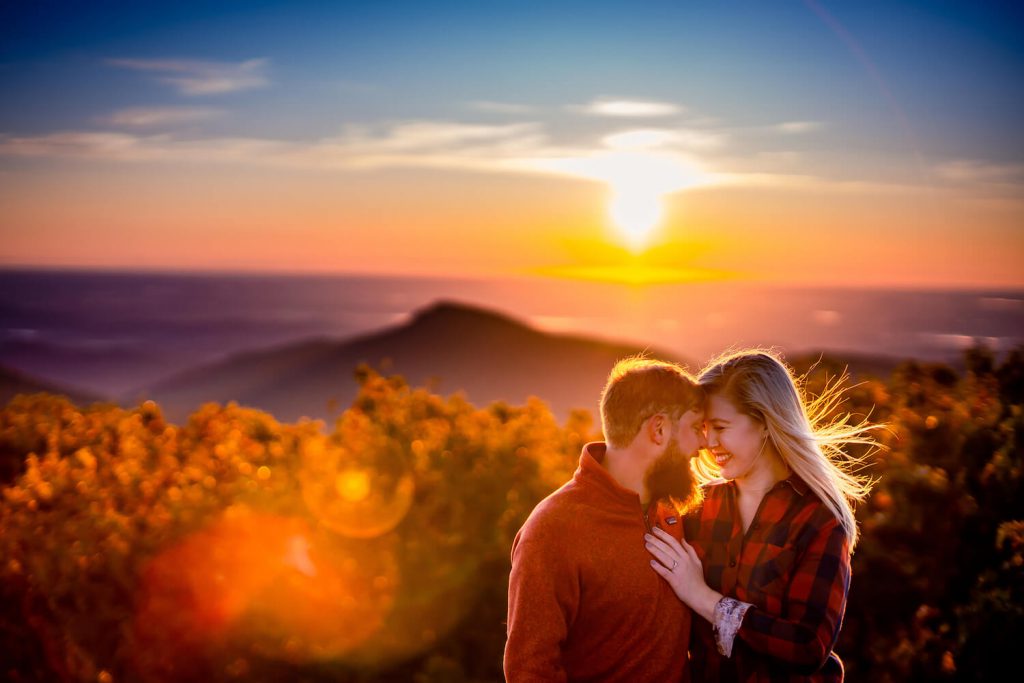 Shryock and Diliberto: "Only two hours outside of DC, every hike in Shenandoah National Park is stunning. We love adventurous couples who seek epic scenery and experiences and will take any excuse to hike to any summit in the park. For couples seeking a memorable sunrise or sunset session experience, the views in the park cannot be beaten!"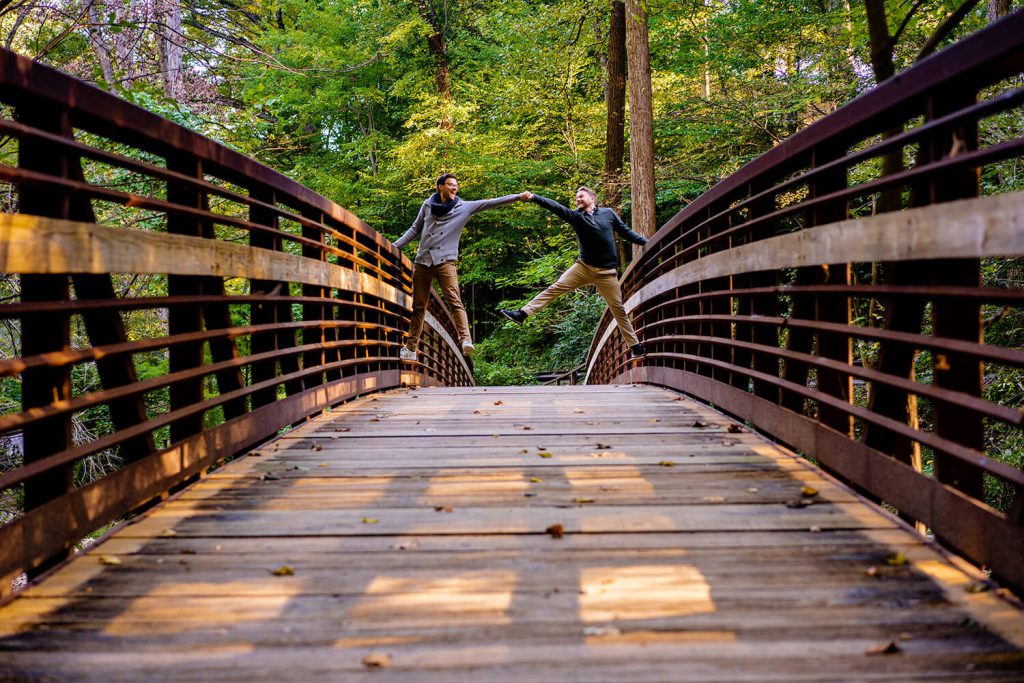 Shryock and Diliberto: "Sligo Creek Trail is a hidden gem in Montgomery County, Maryland and just a brisk drive out of DC. Hiking along the trail offers gorgeous trees, boulders, bridges, and the creek. Sligo Creek is perfect for couples seeking a serene and peaceful environment on this shaded trail."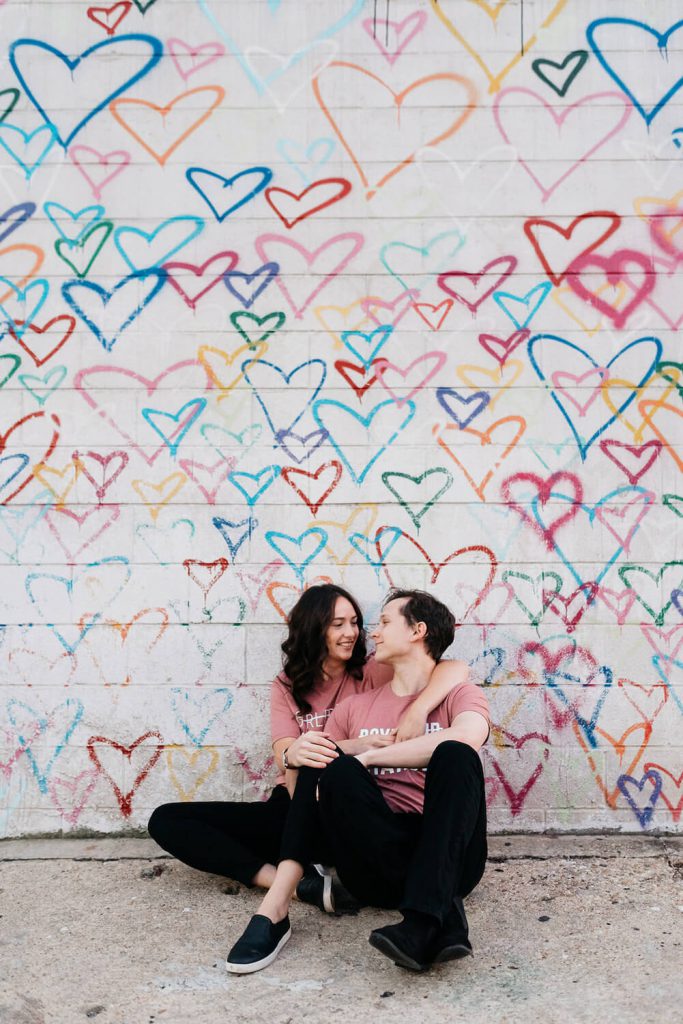 Kubilinskas: "[Union Market is] one of the most amazing and unique places in Washington, DC for urban and untraditional engagement or wedding photoshoots. It is full of colors, graffiti walls, and urban-looking streets. If you would like to get something unique for your engagement or wedding images, this is the place to be."
Taylor: "I recommend shooting on a Monday evening when the market is closed, but I [also recommend] this to couples who don't want the traditional DC engagement session. I love the color of all the murals and the urban feel of this spot."