Once upon a time (say, the 1990s), "engagement photos" involved going to the mall with your sweetie and gazing longingly into one another's eyes while a professional photographer (aka a 24 year-old getting paid $11 an hour) snapped your picture against the pastel-colored background of your choice.
My, how things have changed.
Today, engagement photos are almost as big of a deal as wedding photos. They are part of almost every photography package, and for some people, can be very complicated – think zombies, CrossFit, and full-blown cinematic reenactments. Your engagement photos certainly don't have to involve costumes or professional set decorators, but is it worth it to have your hair and makeup professionally done? We recently sat down with one of our favorite Seattle wedding photographers, Bailey Michelle of Bailey Michelle Wedding Photography, to get her opinion on why professional hair and makeup is worth the investment.
---
What's your personal style? Are you a makeup addict or beauty maven?
If I'm being completely honest, I'd probably never change out of yoga pants (but if we're all being honest, would ANY of us?). Two of the most common questions I receive when my brides schedule their engagement session are what they should wear and how they should do their hair and makeup. Good news: thanks to the incredible team of people behind me, my hair and makeup team has kindly lent their incredible wisdom to answering your questions about engagement photos hair and makeup.
Jered and Meghan—two of my very favorite people and amazing artists—work so incredibly hard on each and every client of mine. I consider myself a very lucky photographer to have such an amazing team behind me. I can honestly tell you that with a team this amazing, my job is the easy part! Most importantly, they treat all of my projects (aka "my babies") and clients like their own.
Is professional hair and makeup worth the money for engagement sessions?
I would answer this question with a resounding YES! It's an amazing investment for a number of reasons. I watch the hair and makeup artists I work with, Jered and Meghan, in complete and utter awe. I will never understand the absolute magic that happens in their salon. (If I could, I probably wouldn't have people ask if I'm sick all the time. Kidding! Well, mostly.)
Personally, I'm not a makeup artist – I can barely put on mascara! But what I am is a professional photographer, and I can tell you that hair and makeup can make a huge impact on how my clients' photos come out in many ways.
Are engagement photos really that big of a deal? I mean, the wedding photos are the star of the show, right?
At the end of the day, all arguments aside, these are your engagement photos. These photos are the photos you'll show your grandkids in 40 years. In fact, I've had a lot of brides tell me they prefer to hang more engagement photos and fewer wedding photos in their homes! The most common reason is that engagement photos are closer to what they look like in daily life.
For this very reason, I caution all of my couples against viewing them as "just" engagement photos. It's an opportunity to capture a very special time in your life. We are capturing a moment of your life together and the love you share- and that's a beautiful thing that deserves to be celebrated.
What differences do you notice about engagement photos with professional hair or makeup?
That's a hard question. I really wish I could explain to you exactly why professional hair and makeup looks so good. But it's an art, not a science. When hair has been done professionally, it stays in place better, and for a longer time. That's really important when you are doing a photo shoot that can last for four to six hours and involve outfit changes. Hair has fewer flyaways and everything looks smoother and softer and shinier.
Makeup shows up differently on camera than in person, and professional makeup artists know this. You might be a master at applying makeup for everyday life, but they know how to ensure that your makeup will look perfect on camera (as well as off). Unless they are in front of the camera every day, that's a skill most people haven't mastered. It's easy to under- or over-apply!
Do you notice a difference in the way your subjects act when they have had their hair or makeup done?
A lot of brides-to-be are nervous about their engagement sessions. For many — maybe most — this is the first time they've had professional photos together. It's a little intimidating! I walk around with you and a literal suitcase full of equipment…. If you're worried about how you're going to photograph, that certainly doesn't help capture the moment. Having professional hair and makeup done can give you just a little confidence boost, which completely shows in your photos! You know how we all feel a little better about ourselves when we put some extra time and effort into our hair and makeup? It's that same principle — except better, because these people are professionals!
What do you look for in hair and makeup artists?
The reason I love Jered and Meghan is that they stick to enhancing natural beauty, not covering it up. They ensure all of my clients look like themselves, but with the most gorgeous hair and makeup they've ever had, and not like a complete stranger. That, to me, is key. A truly amazing artist, like Jered or Meghan, will ensure that you look the glowing bride-to-be that you are.
These photos here were a collaboration between myself and my amazing hair and makeup team to show you how amazing it is! Thanks to our lovely models, Steph and Sean, and their perfect baby Aussie pup Bentley, for suffering through insanely hot weather and intense sun for these photos (and notice how amazing her hair and makeup looks the whole time?).
Up Next:
Set up your wedding website in minutes with design options to make yours truly unique.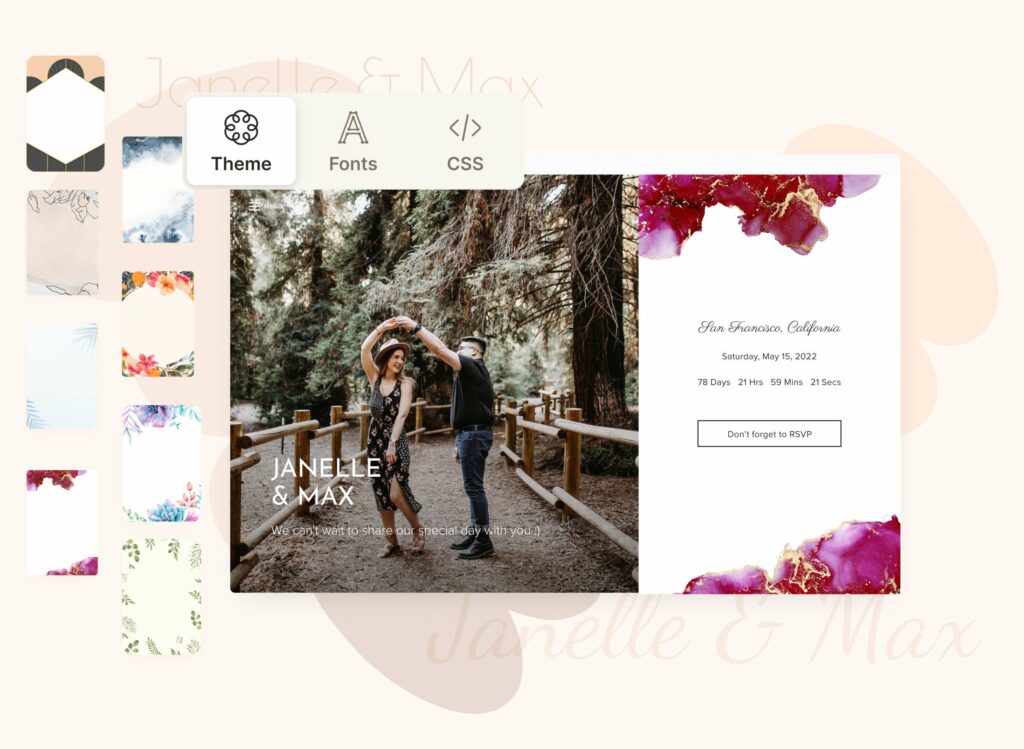 Related Posts
None found