For couples who are planning some type of wedding celebration during COVID-19, safety is the topmost priority. While couples are swapping buffets for plated meals and enforcing social distancing, others are also getting creative with their wedding favors. From PPE to products that boost health, read on for our roundup of nine wedding favor ideas in the time of COVID-19 — including when to hand them out to your guests.
When to Hand Out Your Wedding Favors
While it's common to hand out wedding favors at the wedding reception, either at the place settings or as guests leave, it might be impractical if guests are supposed to use the items at your wedding.
Face masks and hand sanitizers should be incorporated into your big day, so consider offering your wedding favors before the wedding ceremony. Here are some ways to do so.
Assign someone to hand out the wedding favors as guests enter the ceremony location.
Create a wedding favor station that's prominent at your ceremony so guests can help themselves to their gift before you say "I do."
Place one wedding favor on each seat so your friends and family can't help but notice your carefully chosen gifts.
Beyond thoughtful wedding favors, you should also use your wedding website to communicate safety standards to your guests. Not only will this ease their minds, but it will also set the tone for your health-conscious wedding.
COVID-19-Friendly Wedding Favors
1. Personalized face masks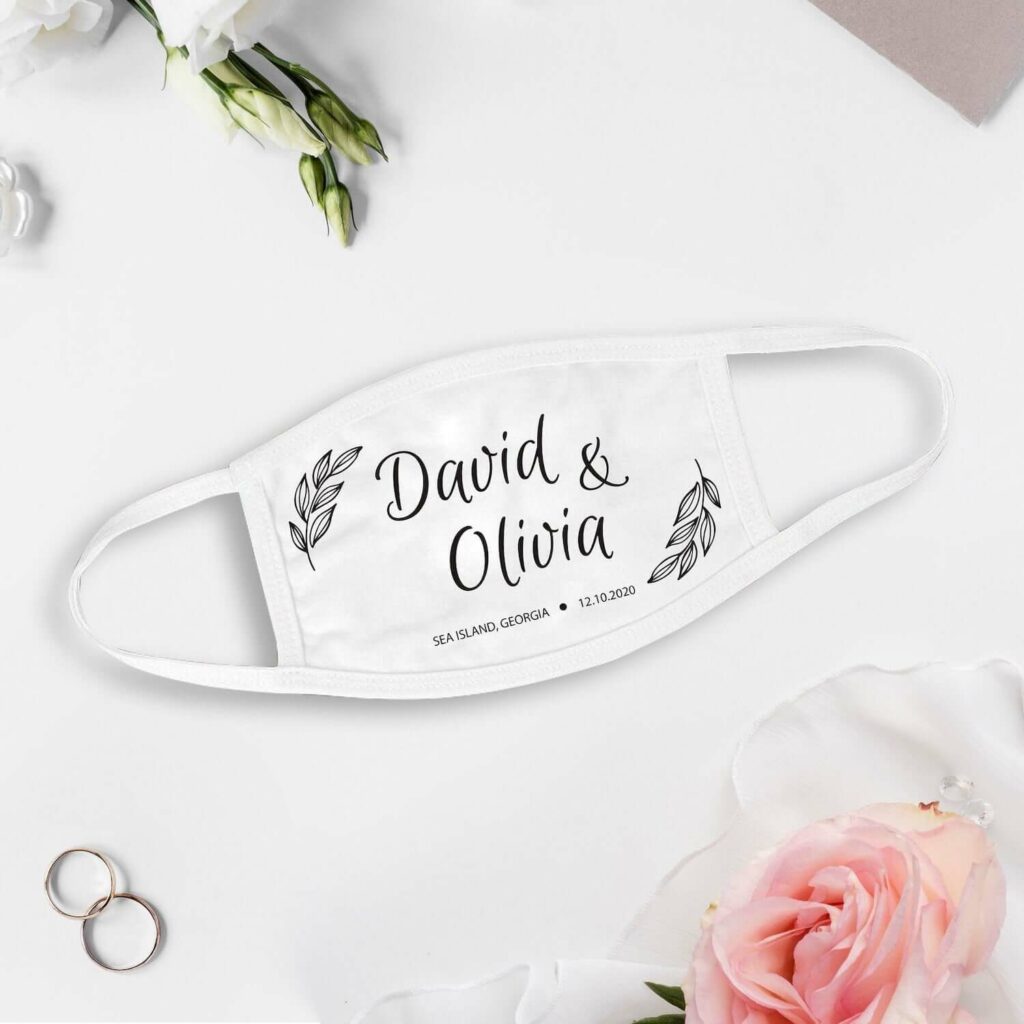 You can never have too many face masks nowadays. If you require your guests to wear a face covering throughout your wedding, why not provide personalized ones as wedding favors? Not only is it practical, but they'll also appreciate having a useful memento from your big day.
2. Individual hand sanitizers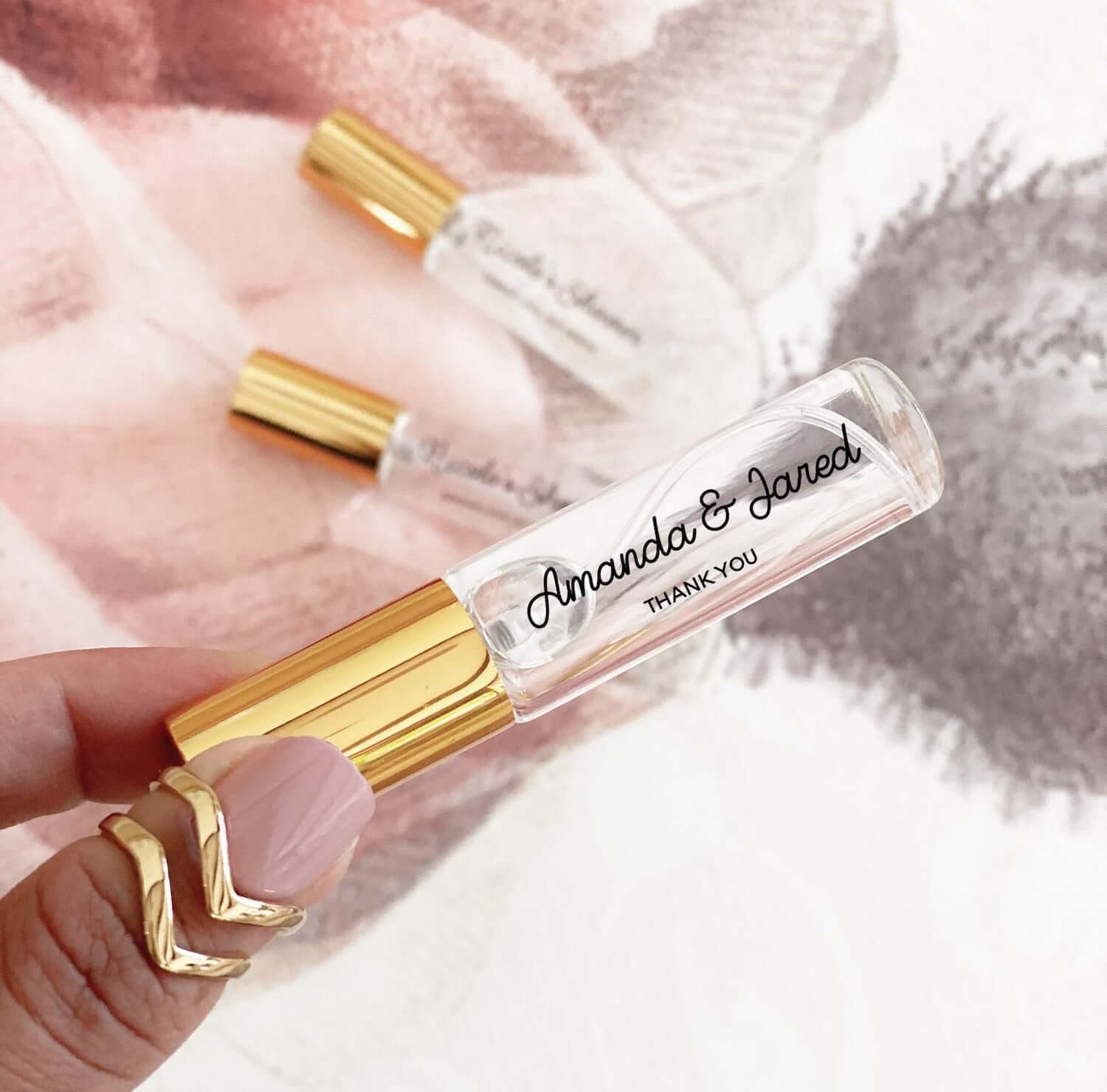 While you should have bottles of hand disinfectant at sanitization stations throughout your event, nothing beats having your own bottle at the ready. Give your guests mini sanitizers as wedding favors to use at your wedding and beyond. Your loved ones will feel safe and protected as they can disinfect their hands whenever they need.
3. Stemless wine glasses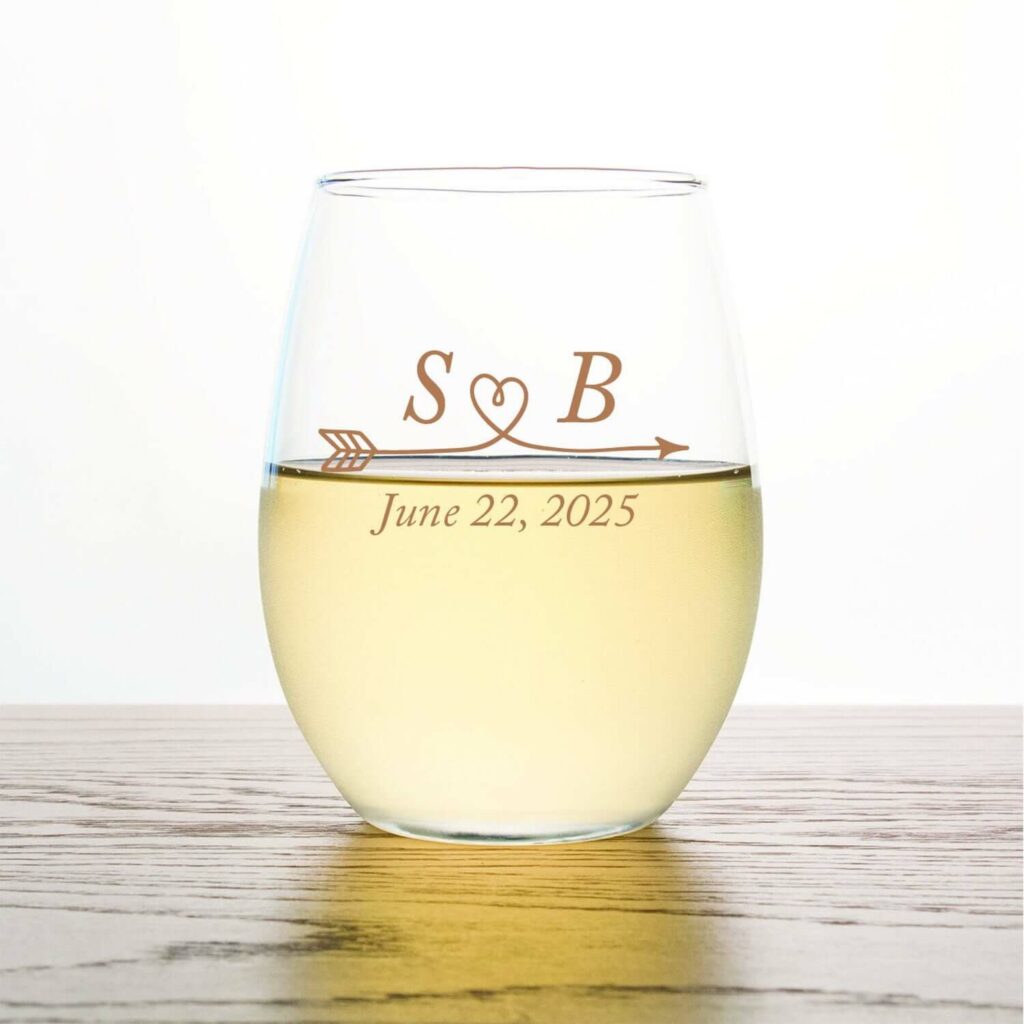 To minimize the number of fingers that touch drinking glasses, present each of your guests with a personalized wedding glass. Sanitize each glass, and place one beside each plate. That way, your friends and family can drink their beverages with ease, and vessels can be refilled tableside as necessary. A bonus is that stemless wine glasses are economical yet high on design.
4. Touch-free door openers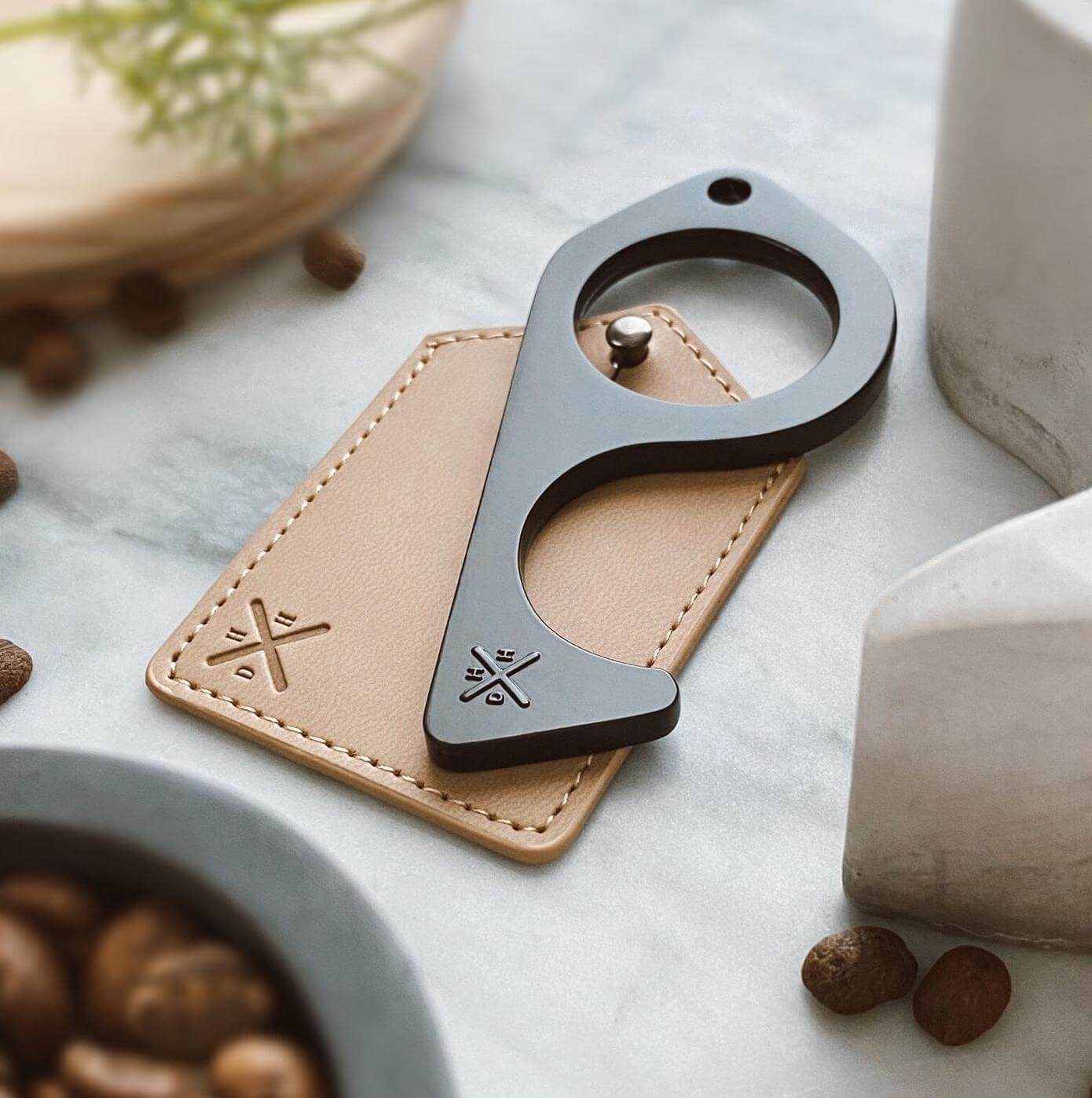 A touch-free device allows guests to push elevator buttons and open doors with ease. Your guests may not already have one, so choosing a touchless accessory as a wedding favor will significantly aid your loved ones in their quest to be safer. Plus, they're also stylish.
5. Engraved Christmas ornaments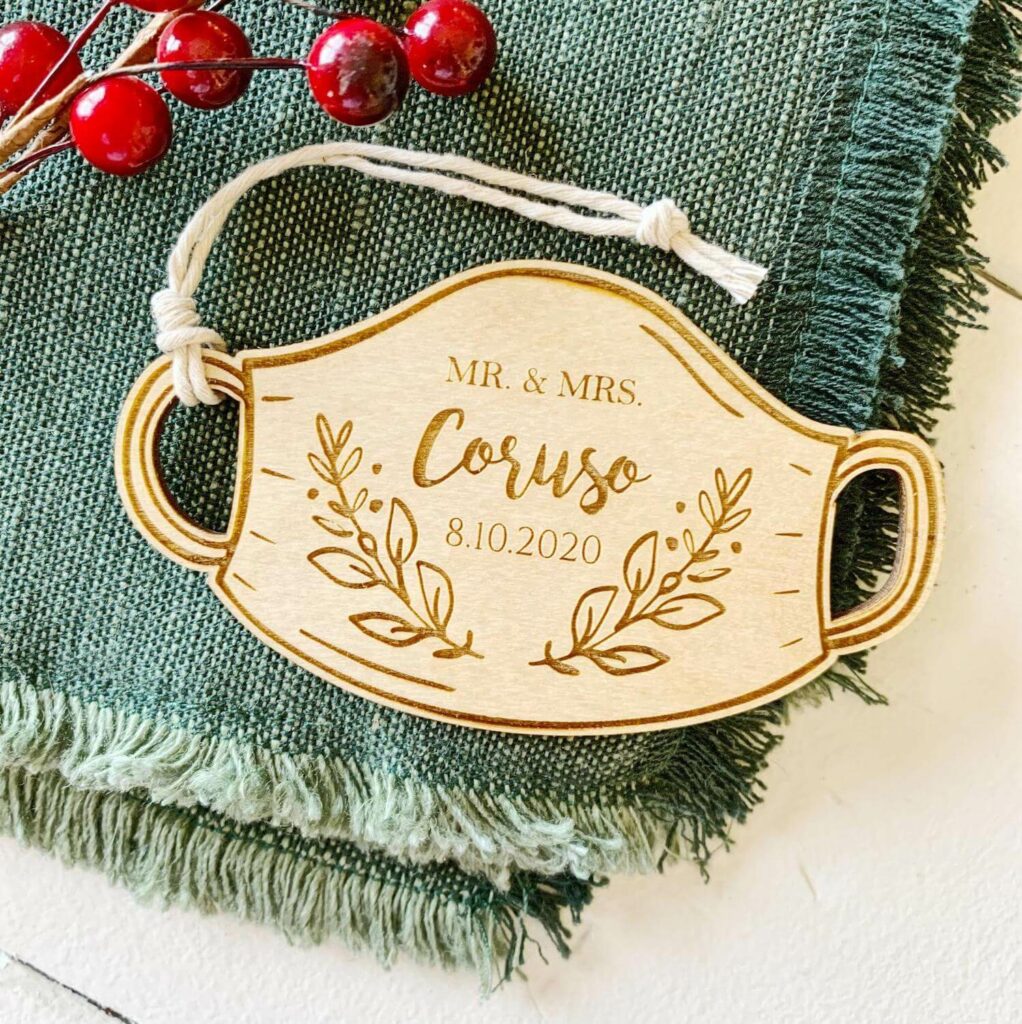 A COVID-19-centric holiday ornament is a perfect wedding favor for the couple that wants to press on with their wedding. Amid postponements and heightened safety standards, sometimes all you can do is embrace the times. Loved ones will always remember your wedding — and COVID-19 — each time they unpack their ornaments.
6. Travel tissue holders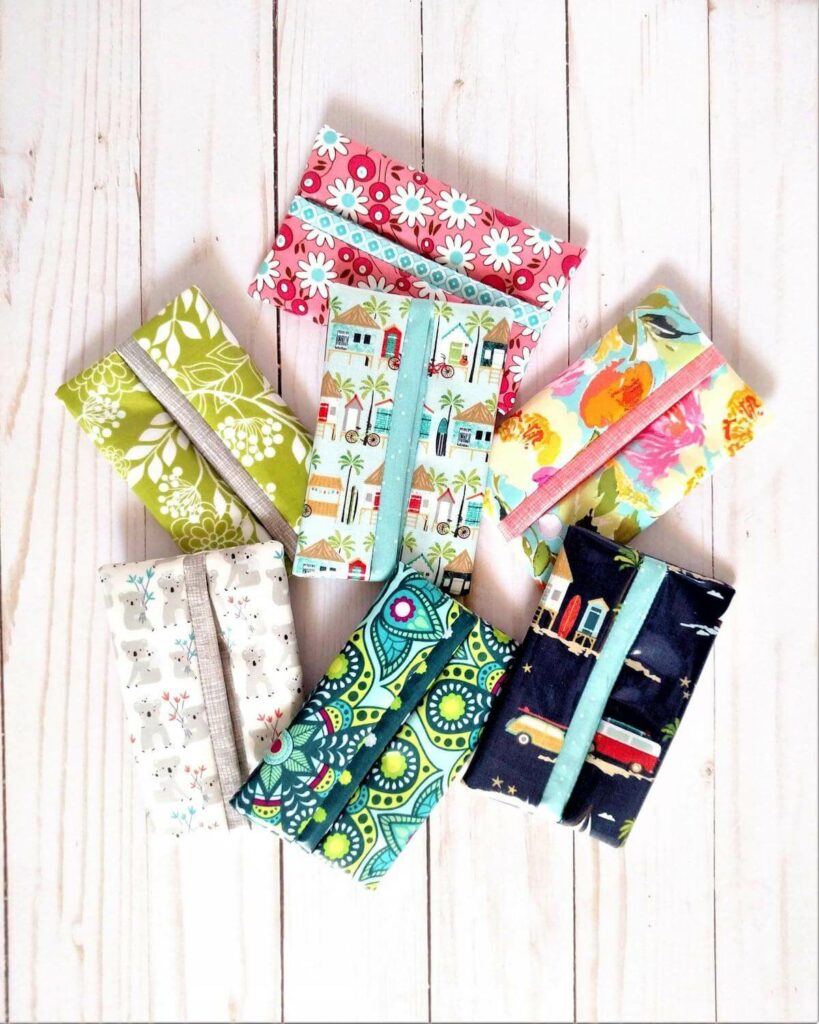 Everyone is conscious of touching their face, not to mention if they have to sneeze or cough. Keeping tissues on hand is essential if guests need to dab away the tears when you say your vows. It's wise to give your guests a reusable case complete with a pack of mini tissues inside. Lay one on each seat at your wedding ceremony so your friends and family can use it throughout the day.
7. COVID-19 communication pins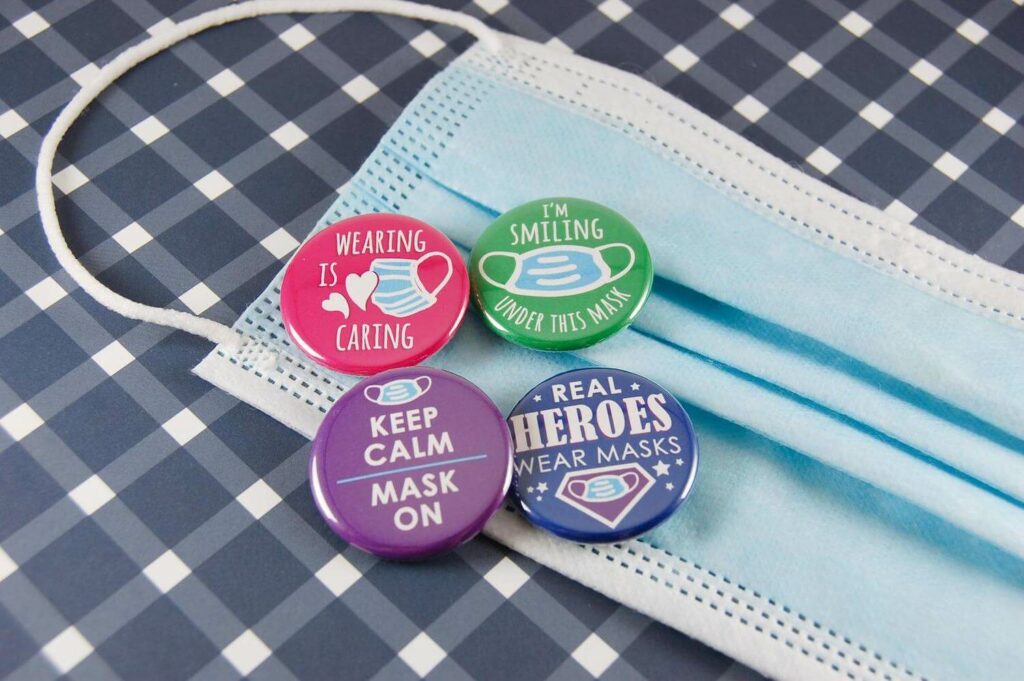 Have your wedding do good, and give your guests something that will encourage others to stay safe. A pin that communicates sanitization standards can go a long way when your guests are out and about. These cuties are easy to place on purses, computer bags, and lapels to show your stance on wearing face coverings.
8. Immunity boosting tea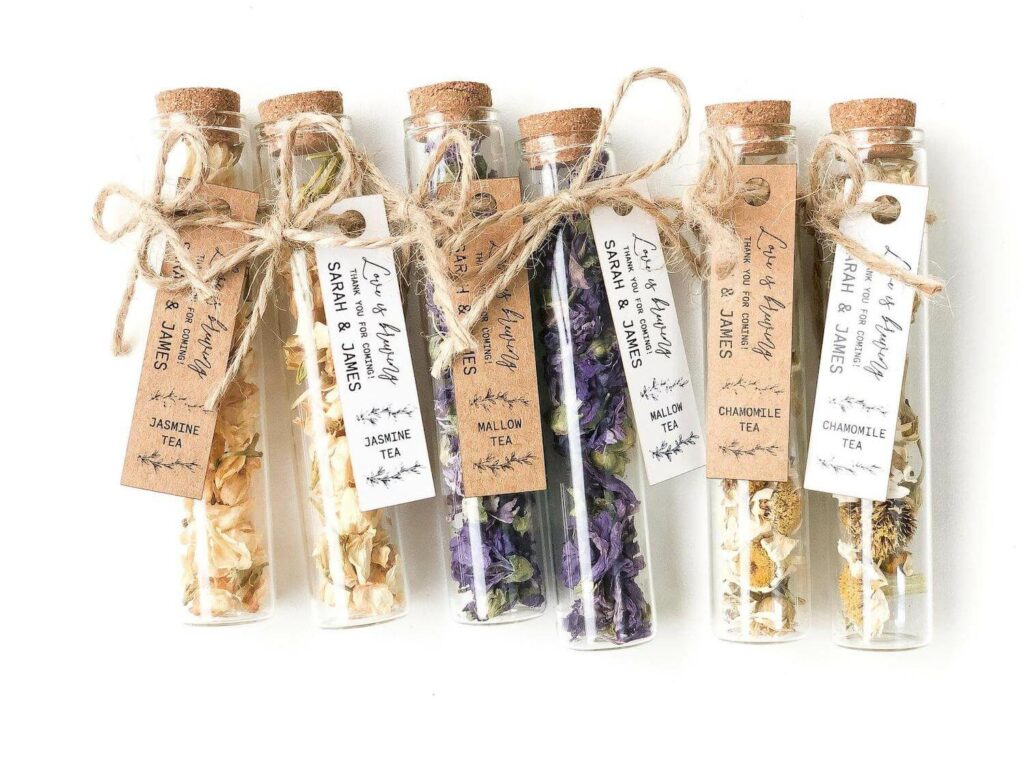 Several tea types, like ginger, lemongrass, and peppermint, are known to boost immunity. Give your friends and family a blend intended to keep them healthy and germs at bay. After your special day, they can think of you as they sip on a cup of hot tea that will do their body good.
9. Air-cleansing candles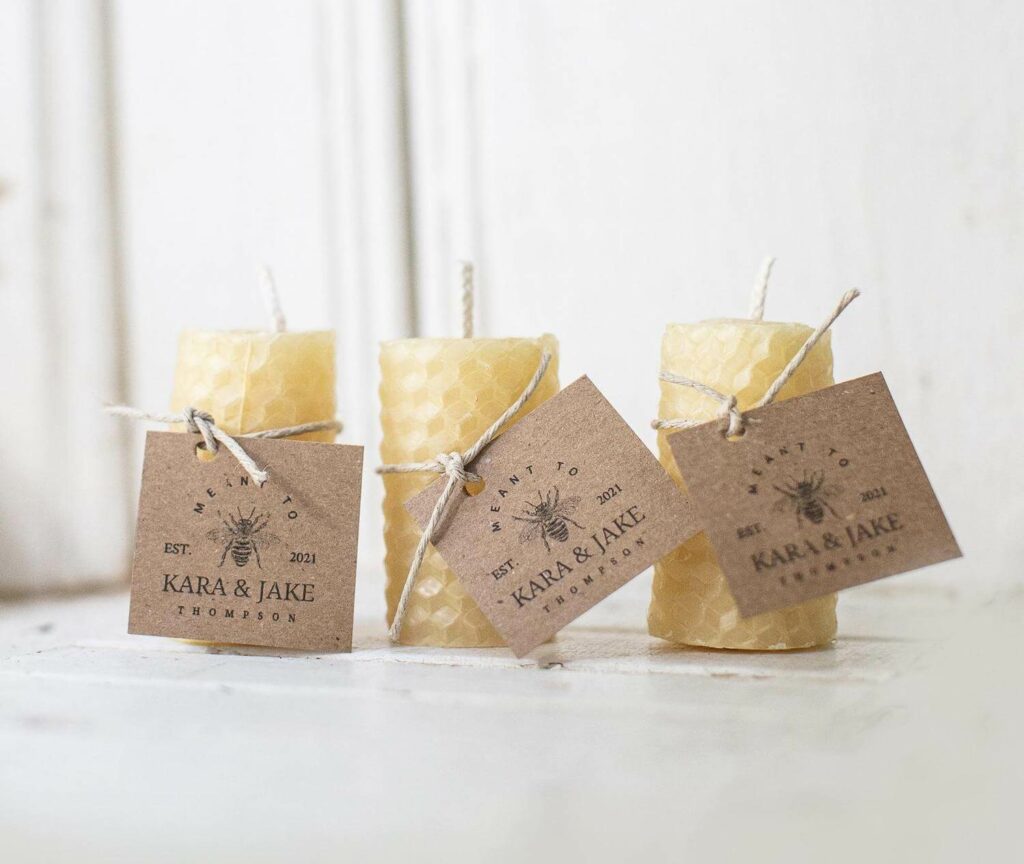 Beeswax helps clean the air, and the science behind it is fascinating. Burning beeswax releases ions into the atmosphere, which will bond with airborne toxins and eliminate them from your breathing space. Candles made from this natural substance also remove dander and dust, providing clean air for your guests at home.
Handing out wedding favors that support the health and safety of your guests is both thoughtful and practical. It will also communicate how much you care about your family and friends as they celebrate you on your big day.