Nicknamed "Music City" for its thriving country music scene, Nashville, Tennessee is a go-to choice for couples hoping to tie the knot where creativity and old-world charm thrive.
You'll find a captivating mix of event spaces in this world-renowned city — including a train station, restored downtown churches, and botanical gardens imbued with the magic of nature — that also happen to be surprisingly affordable.
For a dream venue at a budget-friendly price on your wedding day, look no further than the lively capital of Tennessee. Here's our roundup of five surprisingly affordable wedding venues in Nashville to kick off your wedding planning on a high note.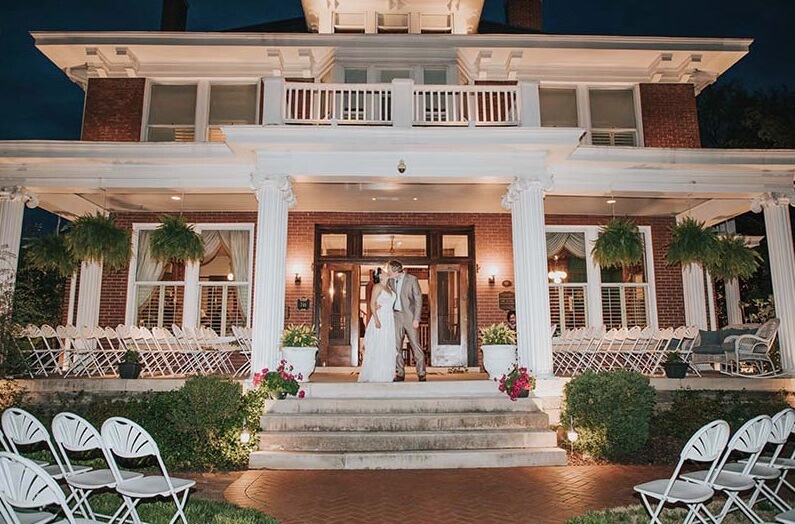 A gorgeously restored 1906 mansion, this bed & breakfast blends the glamour of a bygone era with modern conveniences.
Ceremonies at The Timothy Demonbreun House are often held on the large front porch, providing a sophisticated backdrop that exudes Southern charm with its columns and massive double doors. Guests are often seated on either side of the porch and on the bordering lawn. This venue is intimate, so it's an excellent choice for a small wedding.
After saying "I do," head into the dining room that wows with period-piece interiors. In this historical setting, you can enjoy a meal provided by the venue's acclaimed catering team that offers everything from a BBQ or luau to a more formal sit-down dinner.
When it's time to dance, migrate to the Fleur de Lis Room where an antique Carriage House Bar, and a commercial stereo and laser light system, set the stage for a celebration to remember.
For an easy commute at the end of the night, book one of the B&B's luxurious guest rooms, which can also serve as a bridal suite.
Typical Cost: $1,500 – $3,000
Capacity: 85
Bonus: The venue is conveniently located one mile south of downtown Nashville in the Woodland-In-Waverly historic district.
Find The Timothy Demonbreun House on Instagram and Twitter.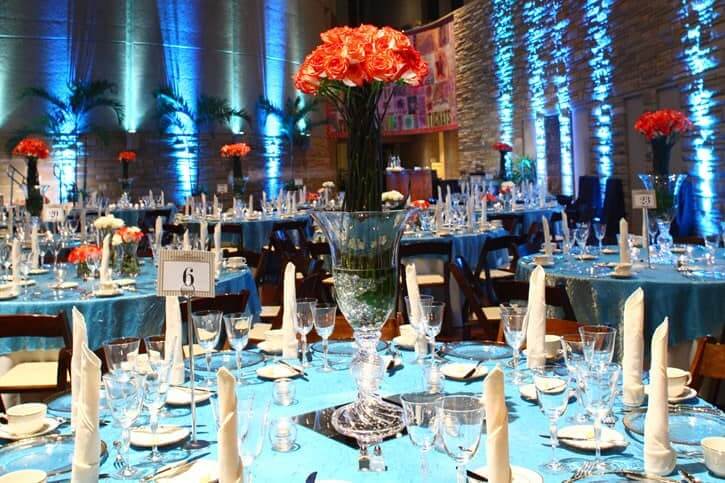 Infuse your wedding with the romantic flair of country music by getting hitched in the hallowed halls of this grand structure that honors this timeless genre. A modern masterpiece in downtown Nashville, Country Music Hall of Fame and Museum features a large conservatory where most weddings take place.
The massive room includes 40-foot windows that look out on the Nashville skyline, and allow a stunning glow to illuminate the room at sunset, in addition to a clean aesthetic that makes it a blank slate for your wedding style of choice.
Sweetening the deal is their ability to help you arrange amazing entertainment, customize the lighting, and organize a private tour of the museum.
Typical Cost: Starts at $3,000
Capacity: 200
Bonus: If you want to add some glamour to your big day, they can hang chandeliers in the conservatory.
Find Country Music Hall of Fame and Museum on Facebook and Twitter.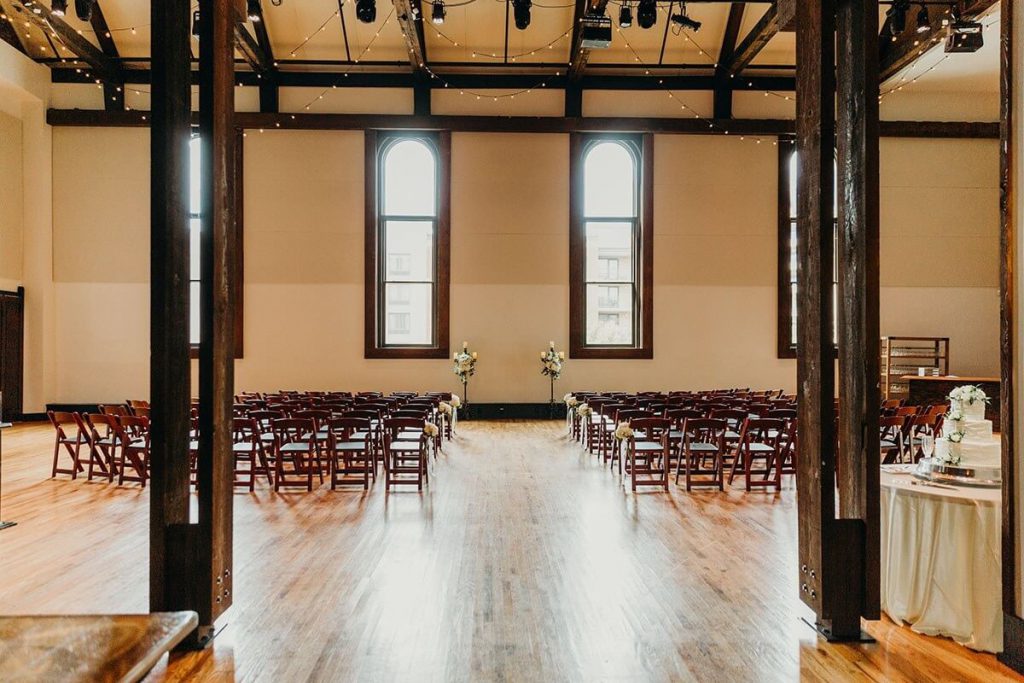 A historic 1874 church turned modern event venue in downtown Nashville, The Bell Tower is a stunning, aesthetic marriage of old and new. The heritage of the building shines through its tasteful stonework, salvaged wood flooring, and exposed-beam ceilings.
Meanwhile, its upper-level mezzanine, with soaring windows bathing the large room in a beautiful glow, and dramatic lighting give the space a more contemporary feel.
The in-house wedding planning and design company, Infinity Hospitality, makes this Nashville wedding venue a one-stop-shop for almost all of your wedding needs. The expert specialists work with you on everything from layout and lighting to decor and menus, helping to ensure you enjoy the wedding of your dreams.
Typical Cost: Starts at $2,500
Capacity: 300
Bonus: The venue's central location means it's within walking distance of many of the city's most popular hotels.
Find The Bell Tower on Facebook, Instagram, and Twitter.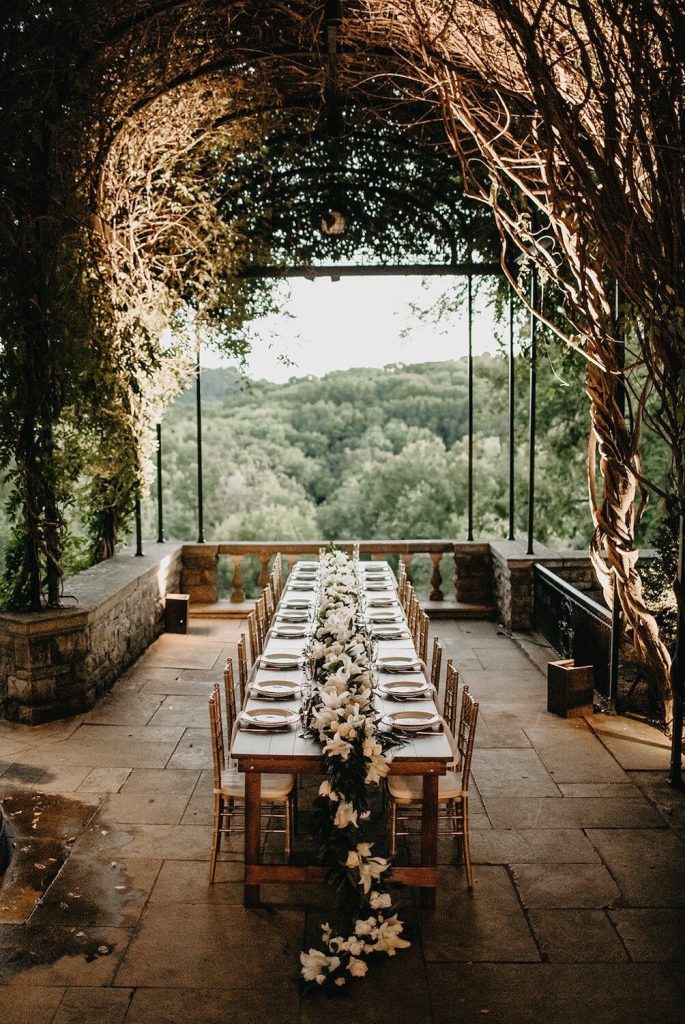 A stunning location for a unique wedding, Cheeckwood Botanical Garden has numerous indoor and outdoor spaces spread out over an impeccably maintained 55 acres.
As for coveted areas for an outdoor wedding ceremony, look no further than the expansive Wills Perennial Garden, the romantic Reflecting Pool, the ethereal Wisteria Arbor (perfect for elopements!), the wild Howe Garden, and the tiered Burr Terrace that features a cottage garden and fountain.
For the wedding reception, enjoy the lavish, cultured interior of the garden's 1920s Georgian-style mansion and museum. You can also use the elegant Massey Hall that's bathed in white, gold, and creamy-sleek floors and a dazzling chandelier. Massey Hall is perfect for a larger wedding.
If you prefer an outdoor reception venue, consider the Frist Learning Center Lawn, which can be tented, or the dignified brick courtyard. The only downside of these gardens is there are so many beautiful settings, it's hard to choose!
Typical Cost: $3,000 – $8,500
Capacity: 250
Bonus: The rental fee includes a membership to the gardens, ensuring you can continue enjoying the soothing space long after you get hitched.
Find Cheekwood Botanical Garden on Facebook, Instagram, and Twitter.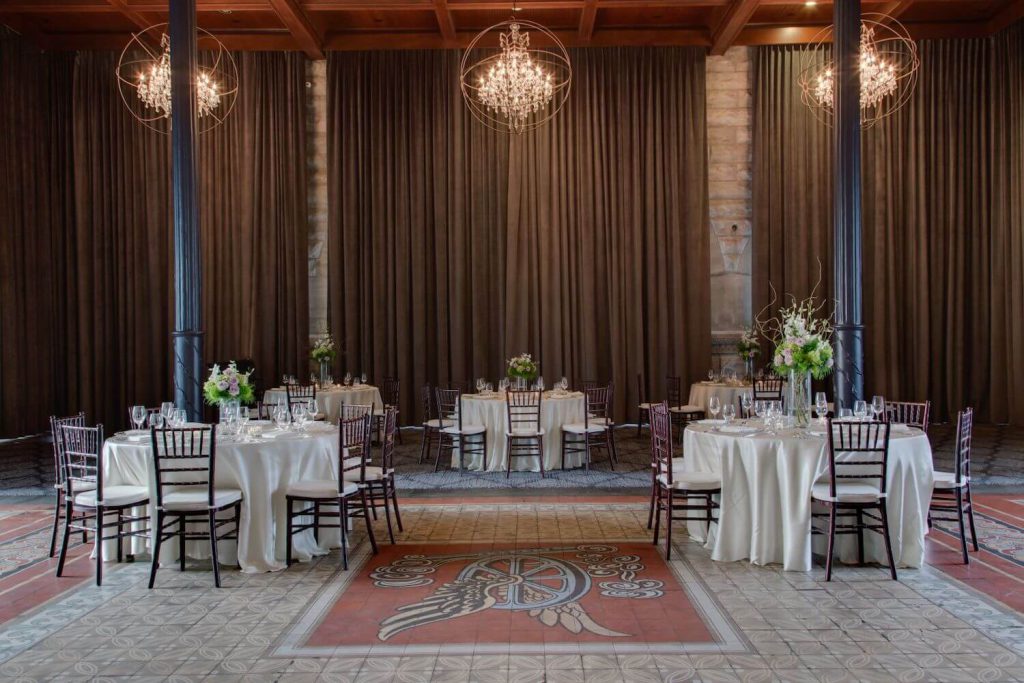 An enchanting site for a chic wedding, the landmark Union Station Hotel is a compelling blend of the bygone era of grand train travel, and the sophisticated amenities of a modern metropolis.
This is an especially apropos wedding venue if you're hoping to lace aesthetic drama into your nuptials, as its lobby dazzles with Gothic architecture composed of rich colors, a breathtaking 65-foot barrel-vaulted, stained-glass ceiling, show-stopping chandeliers, and signage from when the building was a working train station.
In addition to the Grand Lobby, couples can celebrate their love in the Azalean Room, the Dixie Flyer and Hummingbird Room, or the Veranda. The Azalean Room is a dignified space with stone archways, tile floors, and contemporary chandeliers.
For a more old-fashioned reception, select the Dixie Flyer and Hummingbird Room where original stained-glass windows, a stone fireplace, and soaring ceilings create a vintage atmosphere. Enjoy a classic backdrop on the sweeping, covered veranda that looks out on the city.
In addition to the impressive event space, they provide customizable wedding packages that can include the services of master chefs and wait staff, thorough wedding coordination, and support with the bridal shower, rehearsal dinner, and farewell brunch.
If you want to feel like you're saying "I do" in a European castle that's been kissed by country, this is the spot for you.
Typical Cost: Starts at $1,500
Capacity: 350
Bonus: The hotel is in the heart of the city, sitting on Broadway across from the Frist Art Museum and within walking distance to many of the city's best eateries.
Find Union Station Hotel on Facebook, Instagram, and Twitter.