After the ceremony, the bridal party dances their way into the reception hall, and everyone waits for the big moment, the introduction of the new bride and groom. The bride and groom enter the dance floor to a special song and prepare for their first official dance as newlyweds. Wedding entrance songs set the mood for the wedding reception and get the wedding guests excited. Music has a profound way to stir emotions and feelings; the wedding music becomes the soundtrack of your love for the day. Listening to your favorite upbeat song puts a smile on your face, while a slower sentimental song can take you back to a specific moment in time. Choosing your wedding music should be one of the more fun and lighthearted parts of the wedding planning process.
General Tips:
Live Music or DJ
Some couples choose to have live music, while others prefer to have a DJ. Whether or not you will have live music affects the choices for your entrance and exit songs for your wedding. A church processional may be an instrumental live violinist while the grand entrance song at the reception could be a track played by the DJ. If you have specific songs in mind, but they are not on your live band or musician's list of songs they play, they may be willing to learn them for an additional fee.
Keep Your Audience in Mind
You may want to choose the "clean" versions of your favorite songs to play during your wedding entrance and reception to be respectful of your audience. You don't want to offend anyone with raunchy lyrics or expletives. If you're going to play your favorite songs, in their original glory, wait until the end of the night or the after party when younger and older guests have likely gone home. When in doubt, ask your DJ or band to keep it PG-13.
Check with Your Venue
If your ceremony or reception are being held in a church or other religious venue, there may be restrictions on what type of music is allowed. Talk with your wedding officiant to approve music choices ahead of time. A church may also have a live choir or musician that is available for the processional and recessional.
Sound Checks
It's always a good idea to have sound checks before the big day. Make sure your musicians can be heard, and your music isn't overpowering. The DJ or band will need to be prepared to check acoustics and make sure they have basics like outlets so they'll be able to perform properly.
Choosing Your Music:
Most Popular Wedding Songs
If you need a little help with inspiration, Spotify released their most played wedding songs. Don't be afraid to use these songs in alternative ways. Instead of the radio version, try the acoustic or maybe a softer cover or even an instrumental version.
Thinking out loud Ed Sheeran

Marry You – Bruno Mars

Perfect- Ed Sheeran

I Wanna Dance with Somebody -Whitney Houston

All of me – John Legend

Uptown Funk – Mark Ronson and Bruno Mars

My Girl – The Temptations

A Thousand Years- Christina Perri

Marry Me – Train

You Make My Dreams – Daryl Hall & John Oates
Listen to the playlist here.
Entrance Songs:
There are quite a few special moments during a wedding that require their own special tune. DJs and bands need to be told ahead of time, so they play the right songs during the right moments. Choose the perfect songs for these memorable moments.
Processional: Bridal Party
What song will the bridal party walk down the aisle to? Many people choose to have instrumental music during this time or play classic songs.
Processional: Bride
Do you want "Here Comes the Bride" or maybe a violin cover of a popular song? You can choose to be traditional or try something with a little more meaning.
Recessional
The ceremony is over and the "I Dos" were said; the hard part is over, the fun is about to begin. What song will the new couple exit the ceremony venue to?
Reception Entrance: Bridal Party
What song will the bridal party be announced to? This can be a fun moment for choreographed dances!
Reception Entrance: Bride and Groom
The moment everyone has been waiting for: the grand entrance, the big reveal! What song do you want playing as you're introduced for the first time as a married couple? The music should flow with the wedding theme, how the rest of the evening will proceed, and reflect your relationship. Think about songs you both like. What songs do you always sing along to or turn up in the car? What special concerts have you gone to together?
Joy's Top 10 Wedding Entrance Songs
We've curated a list of current and fun songs from the past few years. Dance into the reception hall with these contemporary pop songs.
Pharrell Williams- Happy

Marry You – Bruno Mars

Cake by the Ocean – DNCE

Feel So Close – Calvin Harris

Shut Up and Dance – Walk the Moon

Can't Stop the Feeling – Justin Timberlake

Uptown Funk – Bruno Mars

Crazy in Love – Beyonce

Love Me Like You Do – Ellie Goulding

Classic – MKTO
Listen to the playlist here.
First Dance
The wedding entrance flows into the first dance song for the bride and groom. Couples often have "their song," which makes the decision easy. If you don't have a specific song that you think describes your relationship, think about whether or not you want to have an intimate dance or a more fun dance with surprise choreography.
Spotify's Top 10 First Dance Songs
Perfect – Ed Sheeran

Thinking Out loud – Ed Sheeran

At Last – Etta James

All of Me – John Legend

Can't Help but Falling in Love – Elvis Presley

A Thousand Years – Christina Perri

You Are the Best Thing – Ray LaMontagne

I Won't Give Up – Jason Mraz

How Long Will I love you – Ellie Goulding

Perfect Duet – Ed Sheeran and Beyonce
Listen to the playlist here.
Many times the bride and groom decide on their wedding music together, sharing the responsibility. You can choose songs that have meaningful lyrics that help you express how you feel about one another and tell the story of your love, or songs that have meaning to you. A simple silly song may bring back a special memory that you want to be reminded of during your wedding. Enjoy going through music together, thinking of fun memories and finding songs that are perfect for your special day.
Up Next: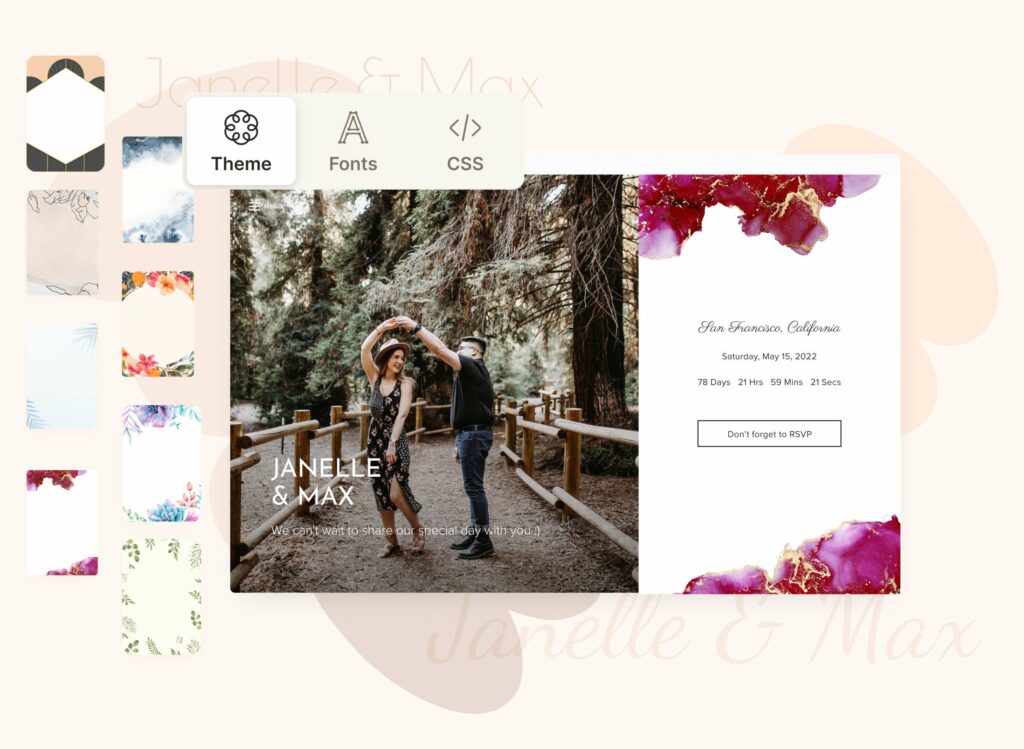 Set up your wedding website in minutes with design options to make yours truly unique.
Related Posts