Of all the parts involved with wedding planning, creating your wedding registry is one of the most exciting. After all, you get to think about everything you truly want and need, and add it to a wishlist loved ones can peruse and shop from.
When it comes to your registry wishlist, the sky's the limit. Gone are the days when couples would select retail items from a department store to add to their registry. While doing so remains popular, feel free to think broader, too. For instance, you can add a honeymoon fund, experiences, a general cash fund, and even charities to your registry. Just remember this is the time to create your perfect wishlist however you wish.
But with so many wedding registry options out there, and numerous platforms offering registry support, you might not know where to start. To simplify the process and help you breeze through it like a pro, read on for our top 10 wedding registry tips, an essential guide for any couple.
1. Get a head start with your wedding registry
After getting engaged, loved ones are usually eager to jump on the opportunity to celebrate you — with gifts! It's wise to start thinking about wedding registry ideas and creating your wishlist soon after your engagement. This way, you can avoid receiving duplicate wedding gifts or having to return flatware or wine glasses you don't want or need.
Loved ones will also appreciate having a registry list to peruse early on, as it will help them make sure they gift you items you're actually excited about. But this doesn't mean you have to know exactly what you want and need right away! By starting early and adding just a few items, you have plenty of time to decide on the rest.
2. Make a wishlist with your partner
Brainstorming all the things you want, need, and want to upgrade for your wedding registry can be a fun, productive exercise, especially when you do it with your partner. Not only is it wise to make sure you're on the same page, but you can even make a special occasion out of it!
For instance, this can be a fun, at-home date night activity with a bottle of wine and a couple of notebooks. If you need ideas on how to build out your wishlist, start by reviewing a Wedding Registry Checklist together. Or to make it more fun, you can both spend a few minutes jotting down separate, spontaneous wishlists — at the same place and time — and share what came to mind for each of you.
Who knows? You might even decide to just add a honeymoon fund to your wedding registry to help you fund that amazing trip you and your partner are dreaming up.
3. Take your time with your wedding registry
By starting your wedding registry early, you'll have plenty of time to think about the items or experiences you truly want and need. That said, you should expect your wishlist to evolve over time, and enjoy the registry process.
Don't feel like you need to fill in all of your wishlist blanks at the same time. In fact, by starting early but taking your time, browsing gift registry options for all areas of your life, you and your fiancé can feel more confident and happier with your choices.
4. Narrow down your wedding registry
With so many options for your wedding registry — whether it's retail products, honeymoon funds, experiences, cash gifts, and charities — it might be tricky to figure out how many registries to create and what online registry providers to use. The decision is totally up to you, but we recommend starting with one or two registries and then branching out from there if needed.
5. Ask for wedding registry advice from loved ones
As you consider various registry providers and craft your wishlist, reach out to close friends and family members who've recently tied the knot for support. These wedding planning veterans can fill you in on their favorite providers, the items and experiences they're so glad they registered for, the ones they wish they'd left off their list, and any other tidbits that might be helpful.
6. Learn about all the wedding registry perks
As you peruse various wedding registry sites and stores, be sure to consider their perks. For example, many of them offer a completion discount, and other coupons, when creating a wedding registry. A completion discount, the most common type of discount, means you'll receive a 10%-20% off coupon to use on any remaining items on your wedding registry that aren't gifted to you by the big day.
7. Get the word out about your wedding registry
Once you've created your wedding registry, it's time to share it with loved ones! A popular way to approach this is to first create a wedding website, which offers many benefits. For example, with a wedding website through Joy, you can send invitations, add your wedding schedule, and house all of your wedding registries on one central page, among other perks.
When you use your website to send engagement party invitations, bridal shower invitations, save-the-dates, or wedding invitations, you can include the link to your wedding website on the correspondence. This way, guests can preview essential information about your wedding and easily find your wedding registry hub.
8. Keep up with your wishlist
After sharing your wedding registry gifts, it's wise to periodically check them to ensure you still have plenty of available items to purchase. This is especially helpful for loved ones who may gift you at a later date. We recommend checking your wishlist at least once a week as you near your wedding day.
You can make this process easier by downloading the app many registry providers offer. These apps allow you to edit your registry on-the-go, which is a huge bonus when you're busy with wedding planning.
9. Show your appreciation to gift-givers
After guests show you the love by gifting many of the items on your wedding registry, express gratitude by sending Thank You notes. These notes are a thoughtful way to tell loved ones how you plan to use the specific gift they sent, and say a general thanks for their attendance at your wedding.
Essential Wedding Registry Resources
To help get started with gift ideas for your wishlist, we've created comprehensive guides to the best picks — at various price points — for some of the most popular wedding registry categories. This includes cookware, dinnerware, gadgets, appliances, and more to kick off your life as newlyweds. While flipping through these guides, consider some of the unique, specific features you and your partner are looking for with the registry items on your wishlist.
The Best Kitchen Appliances for Your Wedding Registry
The Best Kitchen Picks for Your Wedding Registry
The Best Kitchen Gadgets for Your Wedding Registry
The Best Serveware for Your Wedding Registry
The Best Dinnerware for Your Wedding Registry
The Best Bakeware for Your Wedding Registry
The Best Mixers for Your Wedding Registry
The Best Cookware for Your Wedding Registry
The Best Blenders for Your Wedding Registry
The Best Knives and Cutting Boards for Your Wedding Registry
The Best Barware for Your Wedding Registry
The Best Coffee Makers for Your Wedding Registry
The Best Luggage for Your Wedding Registry
Up Next: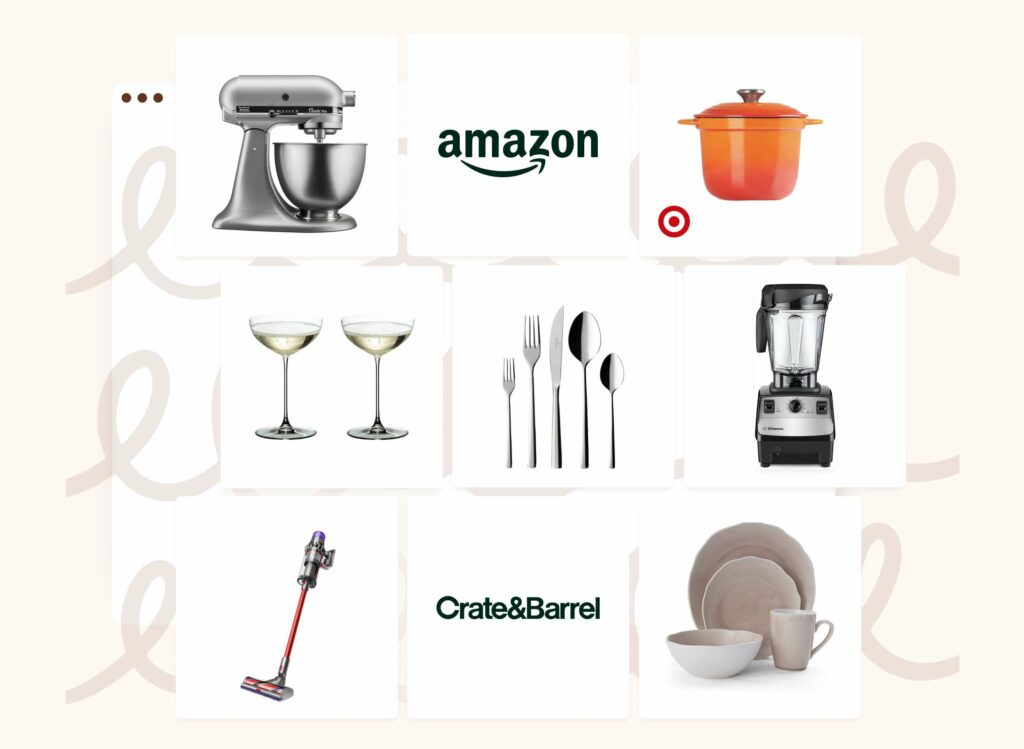 From gifts, to cash funds, experiences or charitable causes, add any gift you want, from any online retailer, to your Joy registry.